Richard with Becky Hobbs , 1989
---
L-R Emory Gordy Jr., Richard Bennett, Alan Lindgren, Albert Brooks, Danny Nicholson, Neil Diamond, Hat guy?, Jefferson Kewley, Fred Smoot, Jerry Murphey and ???
---
Taken at today's induction into the Country Music Hall of Fame of Mickey Raphael as a 'Nashville Cat'.
RB with fellow Cats, Duane Eddy and Jimmy Capps. Photo credit, Deed Eddy
---
With Jimmy Hall at Wishbone Studios in Muscle Shoals with Mark Narmore, Justin Holder, David Hood, and Spooner Oldham.
---
With Frank Dean and Mark Knopfler
---
Recording session for the new Phil Lee album with George Bradfute and Bill Lloyd at Tone Chaparral , Madison
---
Photo: Lawson Little — met Allison Moorer, Phil Lee en George Bradfute
---
Richard with Al Casey
---
Richard with his Barker guitar , read the story about the guitar in this interview

---
Richard and Rosanne Cash (credits Rosanne Cash)
---

Sept. 18, 2010 Station Inn, Nashville. CD - Release night for "Eric Brace & Peter Cooper: Master Sessions" and "Peter Cooper: The Lloyd Green Album" Here's an end-of-night shot of the players: Eric Brace, Richard Bennett, Pat McInerney, Mike Auldridge, Jen Gunderman, Kim Carnes, Alex McCollough, Jon Byrd, Steve Fishell, Peter Cooper (Photo by Stacie Huckeba)

---
credits : Mike Humeniuk
---
With Bo Ramsey , credits Pieta Brown
---
Earlier times
---
Richard with Mike Henderson
---
---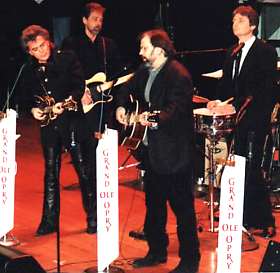 Marty Stuart , Richard Bennett , Steve Earle and Harry Stinson
---
Zoe McCulloch and Richard
---
The Notorious Cherry Bombs
---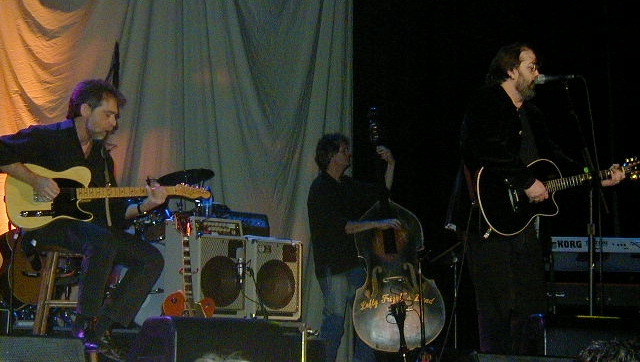 With Steve Earl , Ryman Auditorium , Nashville ,
6 February 2002
---
Sweethearts Of The Rodeo : from left to right, Kristine Arnold, Rick Lonow, Richard Bennett, Dave Pomeroy, Al Perkins,and Janis Oliver. Photo by Cybelle Codish
---
Richard with MK and band and Chet Atkins
---
A picture from 1986 signed by Neil Diamond
---
---
Richard Bennett recorded for a new artist named Meghan Patrick, produced by Vince Gill, also Derek Wells , Justin Niebank and others.